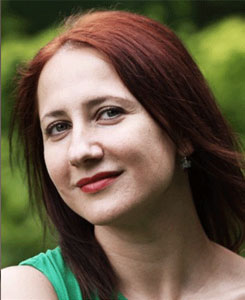 Marina is a multi-talented and passionate entrepreneur with over 15 years experience in technology.  She managed high performing design & development teams and led user experience efforts on projects for major Canadian banks, government and agencies.
She applies design thinking – not only to improve user experience on the projects that she works on – but also to make a positive social impact on the world.
She is passionate about disease prevention and believes data holds the answers to many questions in healthcare.
As a co-founder of Dateva, Marina is motivated to improve the current healthcare system and to see a shift toward prevention. In fact, her own family experiences – her mom's preventable stroke – ignited her passion for prevention and led to creation of Dateva. Read Marina's story
Specialties: Web & Online Development, Strategy, Team Management, Product Design, User Experience (UX), Information Architecture (IA), Content Management, Conceptual Design, Usability Testing & Analysis and Social Media Marketing.
In Marina's own words:
I want to see technology used for good – for solving real problems in the world, like prevention of chronic conditions. We can make peoples' lives better and easier and Healthcare is the perfect area where technology could make a tremendous impact. It can be used to analyze a mountain of data, enable early and better diagnoses and empower people by giving them access to the right information at the right time so valuable energy and time is not wasted.