Why do we need a Movement in the first place?
Your Health Data holds the answers to many questions in Health Care.
If only we had access it!
Data is a Resource
Data is a Public Asset like Water!
Open data refers to government data (including hospital data) that is published openly, while continuing to safeguard privacy. The information is collected at the behest and payment of taxpayers – who "own" this data. The data is a valuable currency and holds the key to, well, just about everything! Opening up hospitals data in commonly accepted open standards format increases its value, as it creates opportunities for medical researchers and technology companies across the world to use this data for research and analyses. At the very least, the data must be made accessible.
OPPORTUNITIES
Opening up Hospitals' data can lead to:
Innovations and cost savings in health care
Discoveries and drug research
Predictive, personalized and preventive medicine
Better care for patients
Better economic development
Better evidence-based decision making
Better government policies and much more …
Canada is behind the rest of the world …
The Ontario Government has adopted an "Open by Default" Strategy", including an Open Data Directive, as part of the Open Government initiative. Even though some public health data has been released in an open format, there are still many issues with what's available. And most importantly, no hospitals and patients data has been released in open format yet. For any company that would like to get access to that data for analyses, it's an impossible task.
"Open by Default" is an amazing concept. Unfortunately, this strategy is not enforceable.
There is no legislation compelling Hospitals & other health care organizations to release and share health data.
We see … "Data Hoarding":
Data is kept in silos
Data is not shared
There is no incentive to work together, in fact, the opposite is true!
Not All Medical Records are Even Digitized
Despite a 2015 deadline for all patients to have an electronic health record, only two-thirds of Ontarians have a digital medical file, according to eHealth Ontario. The rest is still sitting in a paper format. When it comes to accessing those records:
 Doctors don't have access to  their patients' consolidated medical records
Patients don't have access to all of their health data
Patients have to ask for a copy of their records from each healthcare provider and often have to pay fees for that
Everyone is missing out on important opportunities to share data and use technology for patient care advantages.
Quite simply, we need a co-ordinated effort to have health data shared!
Smaller countries are leading the way …
There are many examples of Progressive Governments leading the way in sharing health data such as Belgium, Lithuania, Estonia and the European Union.
Estonia's Example
Estonia, which is 221 times smaller than Canada, has one of the most impressive eGovernments in the world.
All Estonian citizens have government issued Mobile-ID cards, which allow them to pay taxes, vote in elections, pay for public transportation or to view their kids' school grades
99% of public services in Estonia are available to citizens as e-services. It takes only 3 minutes to file taxes and 18 minutes to establish a company in Estonia
More digital signatures have been used in Estonia than in the rest of the European Union altogether
When it comes to Health Care … Patients, doctors, hospitals and the government have been benefitting from the convenient access and savings that e-services have delivered.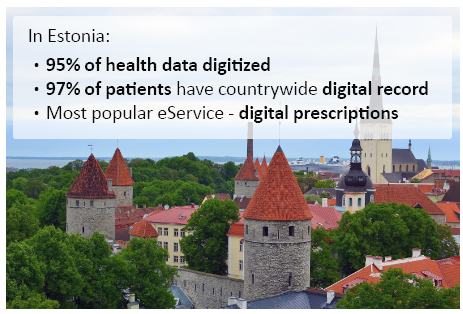 Join the DATA Donor movement ... it's important to act now!