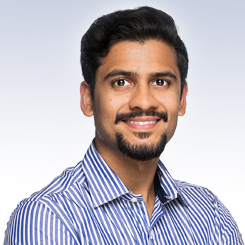 Hamza Khan is a Senior Clinical Research Associate in the complex field of oncology clinical research. He serves as a liaison between Merck and Canadian cancer centres and manages all operational aspects of a clinical trial from site selection, implementation, monitoring and closure of study activities. He was worked extensively in the clinical trial space previously in academic trials at CCTG (formerly NCIC CTG) as well as with several small US oncology biotechs.
He is extremely passionate about how digital health will transform healthcare and the clinical trial industry, increasing patient engagement and awareness of clinical trials. He holds MSc. Neuroscience and BSc.H Life Sciences degrees from Queen's University, Canada. LinkedIn Profile
Clinical trials are an exciting feature of the upcoming VITALx app rollout. Patients will receive notifications about clinical trials that are relevant to their condition through VITALx. We are excited to work with Mr. Khan to create awareness for users and healthcare providers about clinical trials that are relevant to them.
Clinical trials sit at the core for answering important scientific questions and advancing medical research. Patients are the heart of clinical trials and the industry has been plagued with low patient recruitment and retention numbers. No patients means no clinical trials, no new drugs, surgical procedures or devices and thus no advancement in science to combat diseases. I hope to see a day where every patient has access to cutting edge clinical trials that would improve outcomes against diseases and lead to faster drug discovery times.