VITALx is an exciting new tool that combines & examines health data to provide people with trends, insights & predictions.
Not your ordinary medical app!
This is the only app that provides you with a unique opportunity to Become a Data Donor
– to share your medical and health-related data in a secure and privacy-mindful way. This will allow researchers and medical professionals from around the world access to data to use in their research and contribute to the development of preventive, personalized and predictive medicine.
Phase 1 – Coming in October, 2017
Features
Consolidation of all users' medical data in one place.
Health Journal for symptoms tracking with Photo Uploads and a Timeline view.
Seamless integration with users' existing wearable devices & apps, including Fitbit & iWatch.
Photo-to-Text & Voice-to-Text conversions.
You will be able to download your entire Health Profile with all updates, symptoms etc at any time.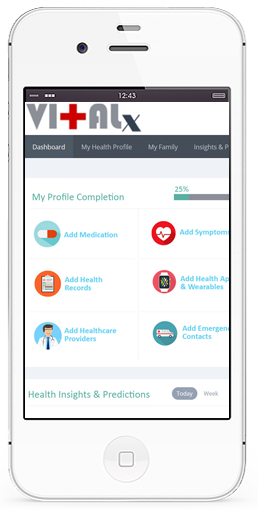 Translations to foreign languages.
Control over your de-identified data
Secure way for donating medical data for research.
Encryption of private information.